North Georgia's Premier Custom Shed Builder
Call Us At 678-577-0398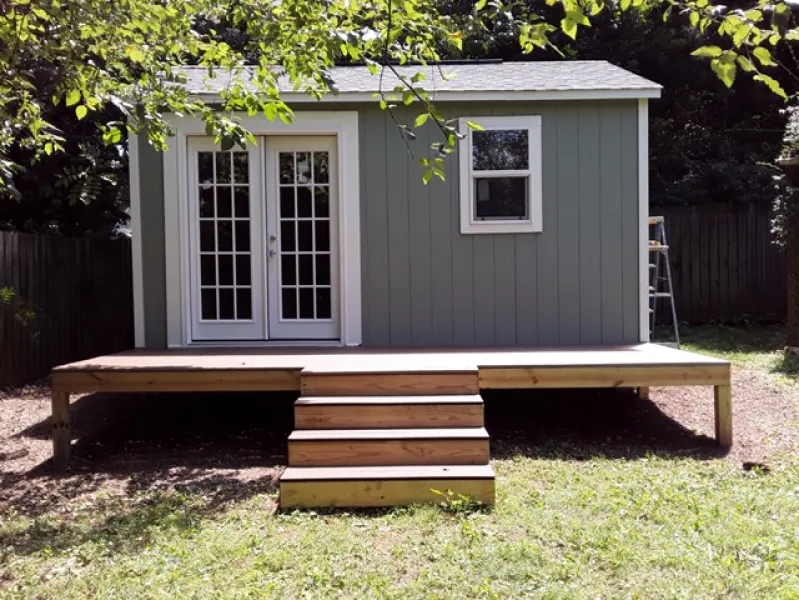 Premier Custom Storage Sheds
McMahon Construction, Inc. is a family owned and operated construction company with over 20 years of experience in the Atlanta area. We are professionally licensed in the state of Georgia and fully insured. In recent years we have dedicated the majority of our expertise to building premier site-built custom storage sheds. We found that specializing allows us to finely tune our craft and provide our customers with the best of the best.
Visit our Storage Sheds Page to discover how we outbuild the competition.

All Sheds Come Standard with the following:
1 Foot on Center 2x6 Pressure Treated Floor Joists on 4x4 Runners
¾ Inch Thick Pressure Treated Plywood Floor Decking
2x4 Walls 16 Inches on Center
25 Year Asphalt Shingles Felt
24 Inch on Center Rafters
6 Foot Piano Hinge on Doors for Extra Strength
4, 5 or 6 Foot Wide Double Doors
Leveling up to 2 ½ Feet Included
When you compare us to the competition you will find we build our sheds stronger. We do this because we believe sheds should be built to last. We don't want you having to worry about maintenance and repairs. We just want you to move in and enjoy your new shed for years to come!
How McMahon Can Help You
In Just Four Easy Steps
Tell us what you need and we'll give you a free estimate!
We'll design a shed that meets your specific needs.
We'll set a date, order and deliver materials, and start building.
We'll paint and add the finishing touches to make your building move-in ready.
Our Customers Love Our Work!
After looking at pre-fab sheds, I had Jim price the job. Told him what I wanted, he did a terrific job. Square building, top to bottom. On time, for price quoted. A month later he did a rebuild for my mom. I would recommend him to anyone. It is nice to get your money's worth these days.
Jim McMahon (owner) met with us and provided a detailed estimate (along with suggestions) and references. We compared his quote to other providers and found him to be very competitive for the quality of materials (much higher quality than Lowes/Home Depot)…